Help solve the biggest problem facing young adults today: federal student debt.
Request a Demo
Support your customers with their federal student loans

without any additional work.
How it works.
Without any IT or data integration work required, Nickels
can be live for your customers in as little as two days.
Set Up

Customers sync their loan accounts in a process that takes just minutes, so Nickels always knows the status of their student loans.

Monitor

Built-in triggers enable Nickels to monitor when important actions need to be taken.

Drive Necessary Actions

Behaviorally-informed messaging drives customers to take important actions on time.
Request a Demo
Addressing federal student debt can grow your business.
Attract and retain young customers.

Provide needed support with federal student debt, the largest debt category with the highest delinquency and default rates for adults under 30.

Increase savings and de-risk your loan portfolio.

Increase your customers' savings, while helping them to improve their financial health and financial future.

Expand access to wallet share.

Create opportunities for other banking products such as primary checking accounts, auto loans, and student loan refinancing.
Data shows that this is more than purely a financial problem.
In fact, the borrowers who owe the least are most likely to default.
Delinquency & defaults hurt business
Read our special report to understand the problems. Download the Report PDF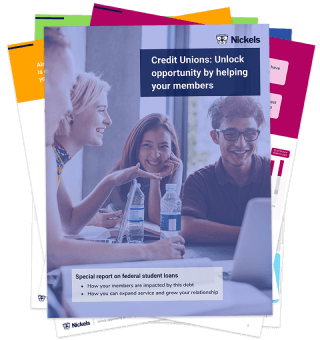 Your customers will thank you.
"I'm really grateful that you are developing this much needed tool."

"There's a lot of gaps right now. And your program can definitely bridge those gaps."

"Joseph runs a great and valuable service…which I just went ahead and told him."
No IT or data integration work required.
We're ready, are you? In just two days you can be helping your customers manage the largest and most problematic debt they're facing today.
Request a Demo